Have you ever wondered why 132 characters is such a common width for printers? Many printers produced lines of 132 characters, such as the groundbreaking Centronics 101 dot-matrix printer (1970), the ubiquitous DECwriter II terminal (1975), the Epson MX-80 dot-matrix printer (1981), and the Apple Daisy Wheel Printer (1983). Even CRT terminals such as the DEC VT100 (1978) supported 132 columns. But why the popularity of 132 columns?1
After researching this question, I've concluded that there are two answers. The first answer is that there isn't anything special about 132 columns. In particular, early printers used an astoundingly large variety of line widths including 50, 55, 60, 70, 73, 80, 88, 89, 92, 100, 118, 120, 128, 130, 136, 140, 144, 150 and 160 characters.2 This shows there was no strong technical or business reason to use 132 columns. Instead, 132 columns became a de facto standard due to the popularity of the IBM 1401 computer and its high-performance 1403 line printer, which happened to print 132 columns.
The second, more interesting, answer is that a variety of factors in the history of data processing, some dating back a century, led to standardization on several sizes for printed forms. One of these sizes became standard line printer paper holding 132 columns.
The IBM 1401 computer and the 1403 printer
The first printer to use 132 columns appears to be the IBM 1403 line printer, which provided output for the IBM 1401 business computer. The IBM 1401 was the most popular computer of the early 1960s, largely due to its low price. Earlier computers had been limited to large corporations due to their high cost; the IBM 705 business computer rented for $43,000 a month (almost $400,000 in current dollars). But the IBM 1401 could be rented for $2500 per month, opening up the market to medium-sized businesses that used it for payroll, inventory, accounting and many other business tasks. As a result, over 10,000 IBM 1401 computers were in use by the mid-1960s.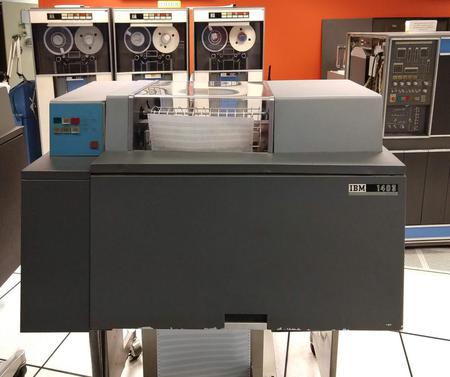 The IBM 1403 printer in front of the popular 1401 business computer (right) and 729 tape drives (left).
The IBM 1403 printer was an important part of the 1401's success. This high-speed line printer could print 600 lines per minute of high-quality text, said to be the best print quality until laser printers.10 "Even today, [the 1403 printer] remains the standard of quality for high-speed impact printing," at least according to IBM. By the late 1960s, half of the world's continuous forms were printed on IBM 1403 printers.3
Because the IBM 1403 printer was so popular, its 132-column format became a de facto standard, supported by later printers and terminals for backward compatibility. The 14 7/8"×11" green-bar paper that it used4 remains popular to this day, available at office supply stores.5
Accounting machines / tabulators
Now I'll discuss the history that led up to 132 columns on 14 7/8" paper. The key actor in this story is the electric accounting machine or tabulator. While these machines are mostly forgotten now, they were the cornerstone of business data processing in the pre-computer era (history). Tabulators date back to the 1890 census when Herman Hollerith invented these machines to tabulate (i.e. count)6 data stored on punch cards. Later tabulators used relays and electromechanical counters to sum up values, were "programmed" for different tasks by a plugboard of wires, and could process 150 punch cards per minute.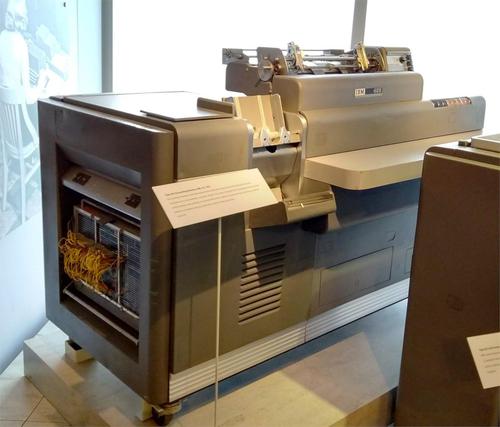 The IBM 403 electric accounting machine. Note the programming plugboard at left with yellow wires. The printer carriage is on top. Cards are fed into the hopper to the left.
By 1943, tabulators were popular with businesses and governments; IBM had about 10,000 tabulators in service. These machines were complex, able to handle conditionals while adding or subtracting three levels of subtotals and formatting their alphanumeric output. Accounting machines were used for a wide variety of business data processing tasks such as accounting, inventory, billing, issuing checks, printing shipping labels or even printing W-2 tax forms. While these machines were designed for businesses, tabulators were also pressed into service for scientific computation in the 1930s and 1940s, most famously for nuclear bomb simulations during the Manhattan Project.
IBM 285 accounting machine (1933)
The earliest tabulators displayed the results on mechanical counters so an operator had to write down the results after each subtotal (details). The development of the tabulator printing unit in the 1920s eliminated this inconvenient manual step. One popular printing tabulator was the IBM 285, introduced in 1933. This machine printed values using 3 to 7 "print banks", where each bank consisted of 10 numeric type bars.7 The output below shows 7 column-output, generated by a 285 tabulator with 7 print banks.

Output from the IBM 285 Electric Accounting Machine, showing its 7 columns of counter output. This output is standard typewriter spacing (6 lines per inch), double-spaced. Headings are pre-printed on the form, not printed by the tabulator.
The character spacing was 5/32" (a value that will be important later), yielding columns 1 7/8" wide. This spacing was about 50% wider than standard typewriter spacing (10 characters per inch) even though the tabulator used standard typewriter line spacing (6 lines per inch). As you can see from the output above, this caused large gaps between the characters. So why did the accounting machine use a character spacing of 5/32"? To understand that, we have to go back a decade.
Early IBM punch cards had 45 columns with round holes spaced 5/32" apart.8 The image below shows one of these cards. Each column contained one hole, representing a digit from 0 to 9. One machine used with punch cards was the "interpreter". It read a card and printed the card's contents at the top of the card above the holes. The interpreter used a 45-column print mechanism with type bars spaced 5/32" apart to match the holes.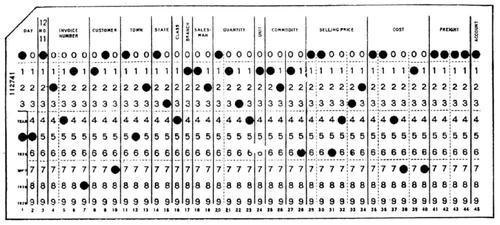 In 1928, IBM introduced the "modern" punch card, which held 80 columns of data (below). These cards used rectangular holes so the holes could be closer together (0.087" spacing). However, IBM kept many of the mechanisms designed for 45-column cards, along with their 5/32" spacing. The result was mismatched products like the IBM 550 Interpreter (1930) that read an 80-column punch card and printed 45 characters at the top of the card. As a result, the characters didn't line up with the holes, as you can see below.9 Likewise, The 285 accounting machine used a type bar printer with 5/32" spacing, even though it used 80-column cards.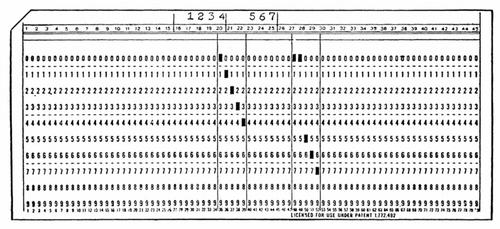 The IBM 550 card interpreter read data punched into an 80-column card and printed 45 columns of that data at the top of the card.
IBM 405 (1934) and 402 (1948) accounting machines
The IBM 285 tabulator could only print digits, but in 1934, IBM introduced the 405, a tabulator that could print alphanumeric information, followed by the improved 402 accounting machine in 1948. Alphanumeric output greatly expanded the uses of the tabulator, as it could print invoices, address labels, employee records, or other forms that required alphanumeric data. The IBM 405 had 88 type bars that moved vertically to print a line of output (below).18 Note the gap for a ribbon guide between the two blocks of type bars.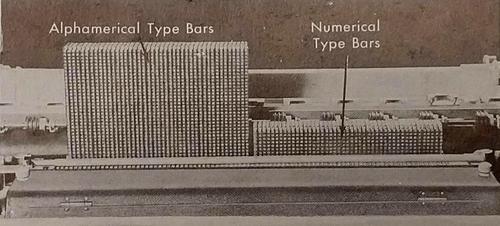 The figure below shows sample output from a 405 tabulator, showing alphanumeric characters on the left side. As with the earlier tabulators, the 5/32" character width resulted in widely separated characters. Note that the headers and boxes were not printed by the tabulator, but were pre-printed on the form.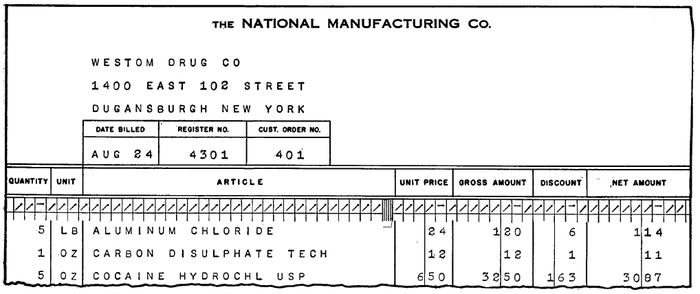 At first forms were hand-fed sheets of paper, but for convenience these were soon replaced by continuous-feed forms.12 To keep forms from slipping out of alignment, holes were added along the sides so forms could be fed by pin-feed or tractor-feed mechanisms. These forms often used a removable 1/2" perforated strip on each side containing the feed holes.22 Thus, the hole-to-hole width was 1/2" less than the overall width, and the printable region was 1" less than the overall width.
Businesses would order customized forms for their particular needs, but these forms were usually produced in standardized widths, given below.11 Surprisingly, these arbitrary-seeming form sizes are still standard sizes available today. Many of the standard form widths are round numbers such as 8" and 11", but there are also strange numbers such as 12 27/32" and 18 15/16".13 I explain most of these sizes in the footnotes.1516 Note that most of the unusual widths are multiples of the 5/32" character width (hole-to-hole); I've highlighted these in yellow. I believe making the width a multiple of 5/32" was a deliberate choice.14

The 402's 88 character output fit exactly onto a 14 7/8" wide form, while also being a multiple of 5/32" (hole-to-hole).17 I believe that this was the reason that 14 7/8" paper became a standard. This width is the dimension of standard green-bar line printer paper still used today, so this dimension is very important. Note that this paper size became a standard before commercial computers even existed.
IBM 407 accounting machine (1949)
The successor to the IBM 402 accounting machine was the IBM 407 accounting machine, introduced in 1949. The most important feature from our perspective was the move from type bars to type wheels. Each type wheel had 47 characters (letters, numbers and symbols) around the circumference and rotated at high speed to print the correct character.19 The tabulator used 120 of these wheels to print a line of 120 characters.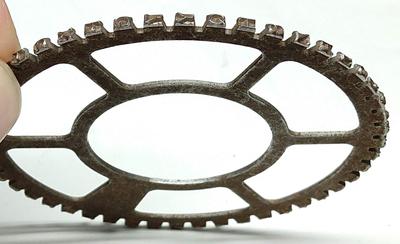 Type wheel from an IBM 407 accounting machine.
The narrow type wheels enabled the 407 to print 10 characters per inch (standard typewriter pica pitch). The output below shows how the tabulator could issue checks using pre-printed forms. Note that the 407's output looks like normal typing compared to the widely spaced characters of the earlier 405 and 402.
The 407 operating manual described how to design forms for the 407,20 and listed eleven standard form sizes (below).21 Despite the switch from 5/32" characters to much narrower 0.1" characters, most of the new standard form widths matched the earlier 402 widths (indicated in green). Many of the previous strange form widths (such as 17 25/32") were dropped, but 13 5/8" and 14 7/8" were preserved, which will prove important.

The IBM 1403 printer (1959) and its 132 columns
Finally we arrive at the 1403 line printer (1959). This printer supported line widths of 100 character, 120 characters, and 132 characters at 10 characters per inch. The 120 character line is obviously useful for backward compatibility with the 407. But what about 132 characters?
Note that the 13 5/8" form conveniently fit the 407's (or 1403's) 120 character line with a small margin.23 The next-larger standard form width was 14 7/8". The increase of 1.25 inches allows you to add 12.5 characters.24 Thus, the jump from 120 to 132 characters was an obvious product improvement since it makes use of the next standardized form width. One objection is that 130 seems like a more sensible round number—the UNIVAC printer used 130 characters per line—so why not use 130 instead of 132? Due to the complex alignment between the 1403's chain and the print hammers, a line width divisible by 3 (such as 132) works out better.25 I suspect this is the primary reason that the IBM 1403 used 132 characters rather than 130.26 A width of 128 might seem better because of binary, but it's not; the 1401 was a decimal machine so there's no benefit to 128.27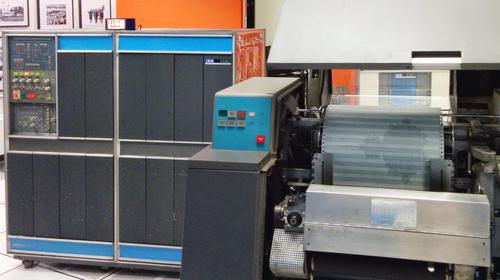 The IBM 1403 printer generating a Mandelbrot set on standard 14 7/8"×11" green-bar paper. The IBM 1401 computer is at the left.
Conclusion
To summarize my hypothesis,28 the 132-character line on 14 7/8" wide paper has its roots in the dimensions of punch cards over a century ago. IBM's early 45-column punch cards resulted in the creation of a printing mechanism with a wide character spacing of 5/32" to match the punch card hole spacing. Even though IBM moved to 80-column cards in 1928, accounting machines continued to use 5/32" characters in the 1930s and 1940s. This resulted in standardized form widths, most importantly 14 7/8" which fit a line of 88 characters. In 1949, IBM's tabulators moved to a standard 10 characters per inch spacing. With that character size and 14 7/8" paper, a 132-character line is natural, and this was implemented on the IBM 1403 printer in 1959.
Because the 1403 printer was wildly popular, 132 character lines on 14 7/8" paper became a de facto standard supported by many other companies. This is why even though punch cards are long obsolete, you can easily buy 14 7/8" green-bar line printer paper to this day.
I announce my latest blog posts on Twitter, so follow me at @kenshirriff for future articles. I also have an RSS feed. I've written about accounting machines before, here and here, if you want to learn more. Thanks to Dag Spicer and Sydney Olson (CHM) and Max Campbell (IBM Archives) for research assistance.
Notes and references