Here are Viking Dishwasher error codes for anyone who needs them. I was visting family over Easter and the Viking dishwasher quit working - it would run a bit and then stop, with two indicator lights flashing. Inconveniently, the service guy claimed he couldn't come to fix it for two weeks. I knew these flashing lights must be error codes, but I couldn't find the error codes listed anywhere on the internet. It turns out that the fault codes are in the instruction manual for the DFUD041 and DFUD141 dishwashers, but in case anyone is looking for them online, here's a summary. One or more of the mode lights to the right of "PROG" will flash, indicating the problem:

"Heavy" (the pot) flashes - too much water in dishwasher. Contact service.
"Light china" (the wine glass) flashes - A fault with the water inlet. Make sure the water valve is open.
"Quick" (the wine glass with arrows above) flashes - valve leakage. Contact service.
"Pots/Pans" (the pot with an underline) and "Heavy" (the pot) both flash - blocked drain. Remove and clean the coarse strainer. Unscrew and clean the fine strainer. Lift out and clean the fine filter. Make sure the drain hose is not kinked. Make sure the air gap is not clogged. This picture shows the strainers and filter: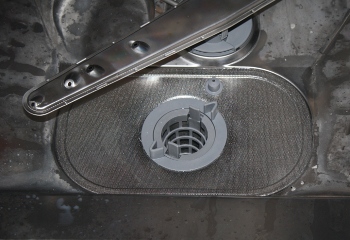 The dishwasher's problem turned out to be a blocked drain - specifically a whole almond caught in the strainer. After removing that and cleaning the filters, the dishwasher worked properly and we didn't need to wash the dishes by hand.
Hopefully this information will be helpful if your Viking dishwasher isn't running properly.