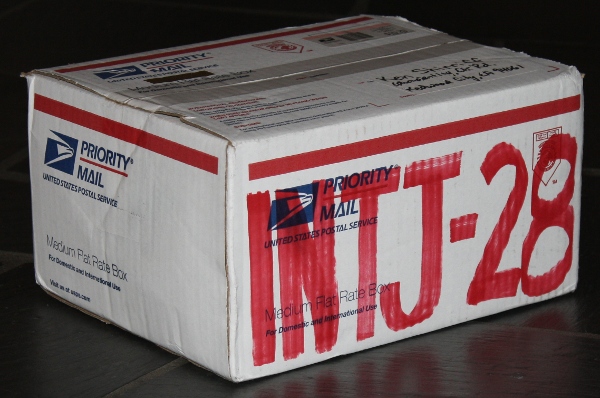 A mysterious package showed up on my doorstep today - box "INTJ-28", an instance of the
The Great Internet Migratory Box of Electronics Junk
, also known as TGIMBOEJ, which is the invention of a group called Evil Mad Scientist Laboratories (note: I am not making this up). The concept is someone sends a box of electronics junk to a recipient (e.g. me), the recipient takes some parts, adds some new parts, and sends it to a new recipient. Each recipient
documents the box
. There are currently about 120 of these boxes roaming the world.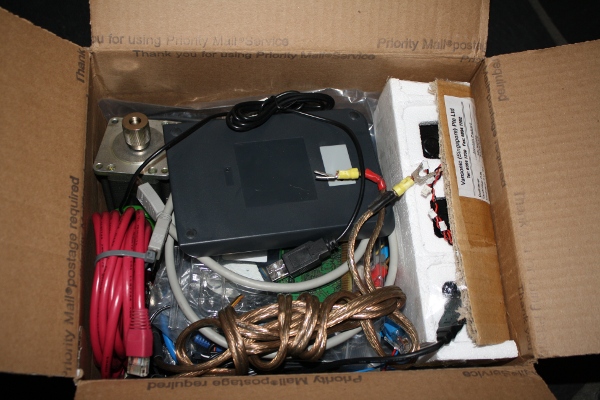 How did I end up with this box? I
signed up
on the request list a bit over a year ago, and was recently chosen by Mr. INTJ to receive a box. In other words, some total stranger on the internet sends me a box of junk. In turn, I've picked another total stranger from the list to receive the updated box of junk.
The contents of the box were pretty interesting. At the top is speaker wire, a USB/PS2 adapter, network cable, and a firewire cable. The blue box is the puzzling "JBM Electronics Gateway Cellular Router C120+F". To the right of it is a box of 9 small speakers, which seems like more speakers than anyone would need (which may be why they are in this box). In the next row is a wall-wart, USB extension, firewire cable, gender changer, RCA cable, a very bright 9-LED module, a Intel PRO/1000 MT Gigabit adapter, binding posts, a little mystery board, a short Ethernet cable, and a USB cable. At the bottom is a blinking USB
ecobutton
, two small stepper motors, a large stepper motor, and a HP combination calculator / numeric pad (which seems to be broken). Under the stepper motor is a
PIC 18f4431
microcontroller, designed for motor control, and a
Basic Stamp 2p
microcontroller module. I think the Basic Stamp is the prize of the box, but I'm leaving it for the next recipient since I'm unlikely to switch from Arduino to a new platform. (Click the above image for a larger version.)
I ended up taking the big stepper motor, the LED, a few cables, the binding posts, one of the speakers, and the ecobutton. What I added to the box will be a surprise to the next recipient, whom I hope will post soon.