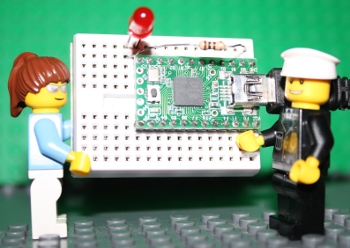 Thanks to Paul Stoffregen of
PJRC
, my
Arduino IR remote library
now runs on a bunch of different platforms, including the
Teensy
,
Arduino Mega
, and
Sanguino
. Paul has details
here
, along with documentation on the library that I admit is better than mine.
I used my new IRremote test setup to verify that the library works fine on the Teensy. I haven't tested my library on the other platforms because I don't have the hardware so let me know if you have success or run into problems.
Download
The latest version of the IRremote library with the multi-platform improvements is on
GitHub
. To download and install the library:
Download the IRremote library zip file from GitHub.
Unzip the download
Move/rename the shirriff-Arduino-IRremote-nnnn directory to arduino-000nn/libraries/IRremote.
Thanks again to Paul for adding this major improvement to my library and sending me a Teensy to test it out. You can see from the picture that the Teensy provides functionality similar to the Arduino in a much smaller package that is also breadboard-compatible; I give it a thumbs-up.